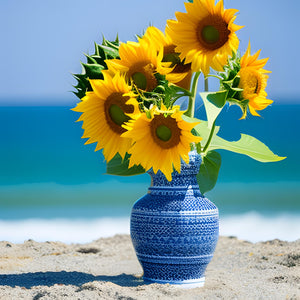 Save 25% on Summer Blooms!
Overnight Flowers was created to give you more:
More personalization, more value, and more transparency. Each bouquet is made-to-order by our talented artisans to ensure that you're sending the very best.
Benefits of Next Day Flower Delivery
At Overnight Flowers, we understand that special occasions might occasionally sneak up on you. Your mother's birthday is tomorrow? Your anniversary is on a Saturday? You've got nothing planned for Valentine's Day? Well, ONF has you covered with next day flower delivery. By offering free overnight shipping for all orders received by 2:30 PM Eastern Time Monday through Friday, you can get that last-minute gift delivered to your loved ones on time. Best of all, with our free upgrades, they'll never know that your thoughtful gift was actually last-minute.
What Types of Flowers are Eligible for Overnight Delivery?
When it comes to sending flowers for next day arrival, you'll have a multitude of options. Depending on the season, you can expect a wide range of options from Overnight Flowers, including roses, gerbera daisies, lilies, snapdragons, sunflowers, hydrangeas, and poms. Many of these flowers are available in hand-tied, made-to-order mixed bouquets, bringing a rainbow of fresh colors to your loved one's doorstep. Shipped in our signature gift box with an industry-exclusive hydration process, all ONF bouquets come with a Freshness Guarantee.
Best Sellers: Our Most Popular Bouquets
Maybe you're not a flower expert with years of floral design training. That's okay, that's what we're here for. Our curated floral designs are carefully tagged with various labels to help you make the best selection possible. For example, you'll see Best Seller labels on arrangements such as our popular Happy Energy or Celebrate Good Times which are popular month after month. Sending your flowers to a fashionista? Consider our Trending bouquets such as Purple Crayons or The Wasabi. And even though we design flower bouquets for a living, we're also customers. So look for Staff Picks such as Gerbera Dreamin' or Central Park, and your recipients will exhibit the same smiles that our own loved ones have revealed time after time.
Special Occasions, Holidays or Just Because
If you're celebrating a special event, there's nothing better than surprising your loved ones by sending fresh flowers. You can choose to schedule your shipment for a later date, or, if you've procrastinated, next day delivery is often available. Some of the most popular occasions that make for a great flower gifting experience include Valentine's Day, Mother's Day, Graduation, Anniversaries, Thanksgiving and Christmas.
The Overnight Flowers Difference
Flowers should be personal, and no floral delivery company has achieved maximum personalization like Overnight Flowers. Never outsourced, each ONF bouquet is made-to-order and 100% long-stem. Each order includes free shipping along with your selection of an optional free vase. Then, choose to customize with our premium bouquet wrap which includes your recipient's name. Instead of cheap thermal paper, we use premium stationary with sealed envelopes for your gift message. And to make sure it arrives as fresh as possible, our unique hydration pack ensures the flowers are nourished during transit. Best of all, frequent ONF shoppers will get access to free flowers by leveraging our innovative Grow Rewards program. Shop now to see why the Famously Fresh bouquets of Overnight Flowers are quickly becoming America's favorite choice for conveniently shipped flowers.